(10/6/12)
I haven't examined Inflation Adjusted Charts in awhile however they are important to look at since it's becoming obvious that those that control the market have been trading off of them. The first graphic is a yearly chart of the S&P Composite going back to the late 1890's. The first thing to notice is that the S&P held support in 2009 right at the peak of its late 1960's high near 700 (blue line). Meanwhile the next thing to notice is that since the 2000 high a downward channel has developed (red lines). Furthermore also take note that the S&P is rallying back to the top of its downward channel which is near the 1500 level. If those that control the market continue to trade off the Inflation Adjusted Charts one would expect a decent reversal to develop from the top of the downward channel as we move into 2013.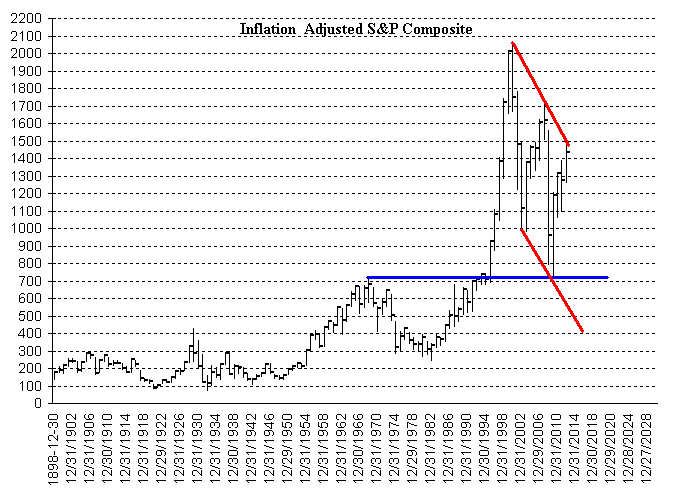 The next chart is an Inflation Adjusted Chart of the S&P Composite going back to 1789 using yearly closing values and plotted on a Log scale. In addition I have added the Exponential Regression Line along with the % above the Regression Line (black bars) based on yearly closing prices in the S&P.
Notice when the S&P has risen 80% or more above its Regression Line (points A) this has signaled a nearing Top which was followed by substantial corrections ranging from 53% to 73%.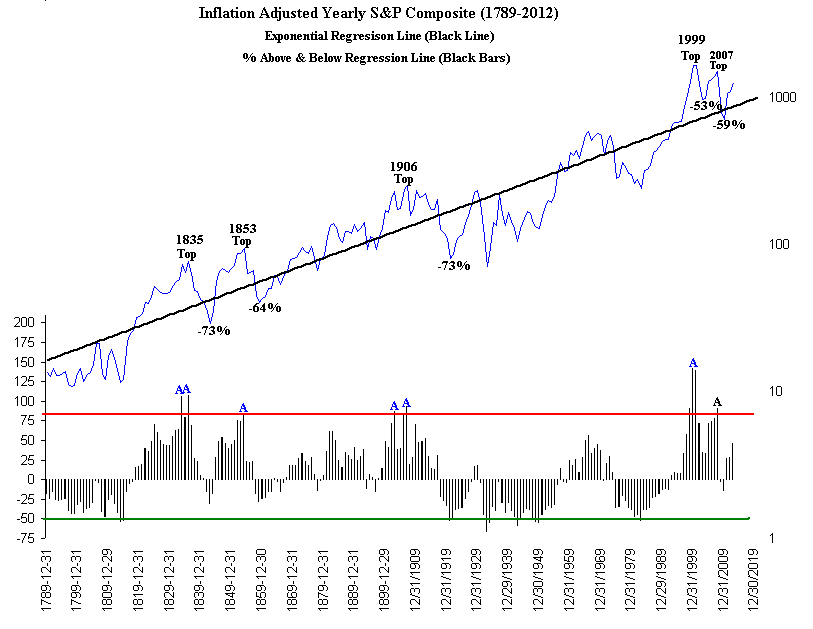 Meanwhile significant bottoms have occurred when the S&P has closed 50% or more below its Regression Line (points B) which were then followed by impressive rallies ranging from 117% to 839%.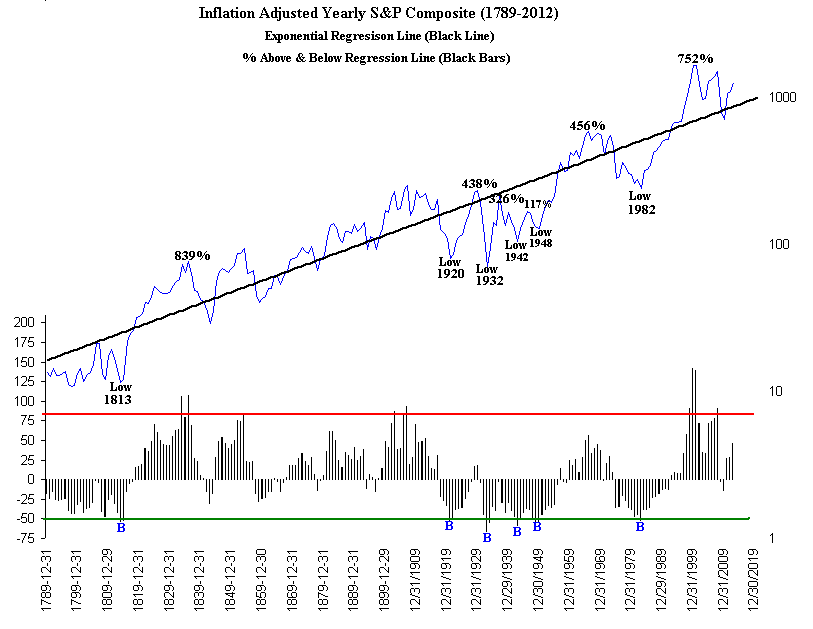 Now if we apply some long term channels based on 80% above (green) and 50% below (purple) the Regression Line we get the chart below. As you can see there is clearly a long term upward trending channel and so far the S&P has held support just below its Regression Line back in 2009 (point C). Thus the question is was 2009 a Secular Bear Market low or will the S&P eventually retest the lower part of the upward channel at some point in the future?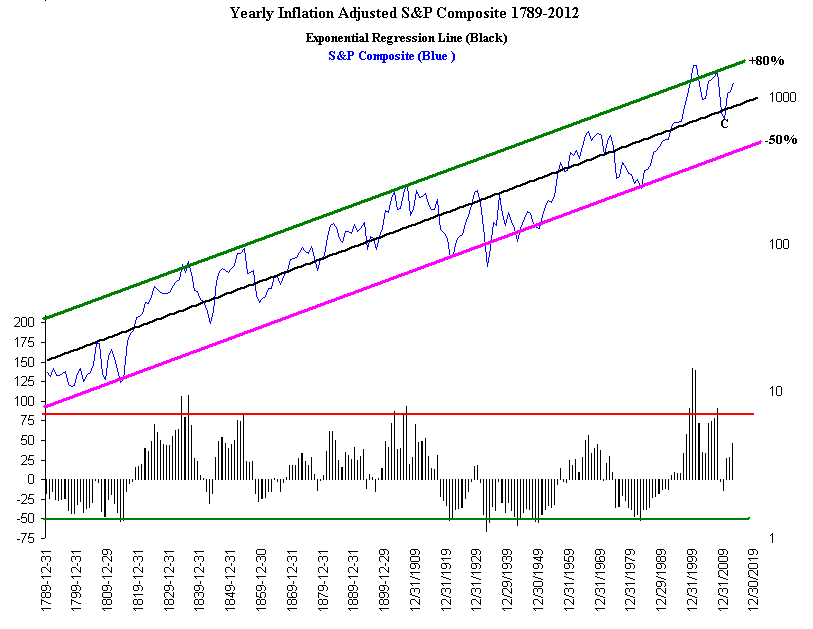 Signup for a "Free 4 Week Trial Membership" or save up to 50% on a Premium Membership and you will have access to the following products.
1. "ETF Daily Buy and Short Signals" which can be used to trade the DIA's, QQQQ's and SPY's.
2. "401K/Thrift Savings Plan (TSP) Timing Service" which can be used to help improve your return in your 401k/TSP Account.
3. The "End of Month Strategy". This Strategy focuses on the typical End of Month markup by the Institutional Money.
4. "Stocks to Buy List" which can be used with either our Short Term Strategy or Long Term Strategy.
Our Fall Membership Special for new Members is shown below
which are 50% Off our normal Monthly Rate of $39.95
Membership Plans

Initial 50% Off
Introductory Rate

30 Day Trial Membership

FREE
Monthly Membership
$19.95
6 Month Membership
$119.95

We offer these options to sign up for our 50% Membership Special
or "Free" 30 Day Trial Membership:
All Trial and Regular Memberships are on a renewal basis so please email us to cancel your Membership before it renews as they "aren't refundable".
After the Introductory Period expires Memberships will automatically renew at our normal Monthly Discounted Rate of $21.95.
Send this Free Newsletter to a Friend or Relative