(10/10/09)
On a weekly chart the S&P 500 found support right at its 10 Week EMA (blue line) and looks to be consolidating for at least one more potential move higher. Back in May the S&P 500 consolidated for basically 3 weeks (point A) after making a large move from mid March through the first week in May. This was then followed by a two week breakout in which the S&P 500 moved up to 956 before going through a more substantial correction from mid June through early July (points B to C).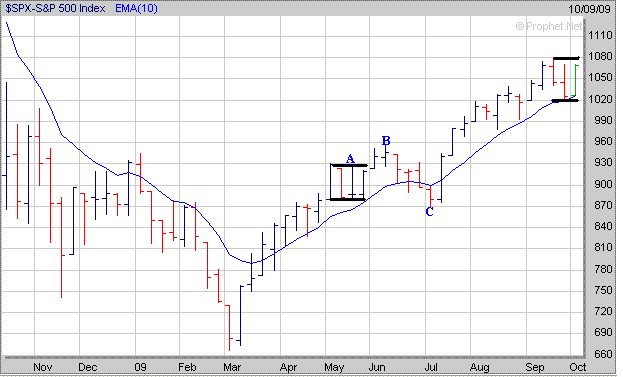 During the past 3 weeks the S&P 500 has been trading between 1080 and 1020 so if it does eventually break out of its recent consolidation pattern the next major resistance area is at 1121 which coincides with its 50% Retrace (blue line) calculated from the October 2007 high to the March low of this year. In addition notice the longer term downward trend line (black line) also comes into play near the 1121 level as well. Thus it's certainly possible if the S&P 500 does eventually make one more move higher to around 1121 that this would signal the end of Wave C of a larger ABC corrective rally that began with the March low of 667. If the S&P 500 were to reach the 1121 level before the end of the month that would be a 68% rally in basically 8 months.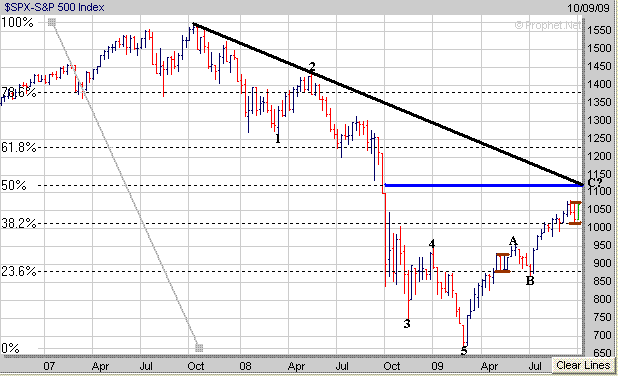 Of late there has been a lot of bullish comments made by the media that the next major Bull Market is here and that a repeat of the late 2002 through late 2007 time period is going to occur. However I would caution everyone that there is a strong possibility that once this rally ends the market could get stuck in an extended trading range or even potentially retest the March lows at some point in the longer term.
First let's look at the mid 1970's which is one potential pattern the S&P 500 is currently exhibiting. The S&P 500 had a truncated 5th Wave to complete is 5 Wave pattern to the downside in late 1974 after dropping 48% from its early 1973 peak. This was then followed by an ABC rally that saw the S&P 500 gain 68% over a period of 22 months before peaking in the latter half of 1976 which was then followed by a 20% drop through the early part of 1978.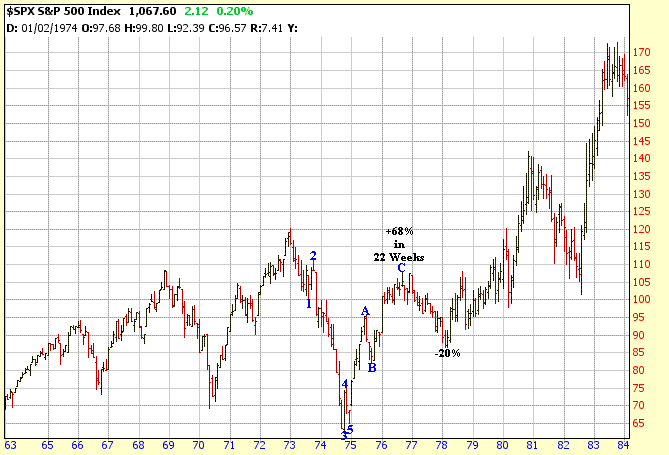 However when you factor in Inflation the above chart looks much different in real dollars as shown below. The top panel is the S&P 500 Adjusted for Inflation while the bottom panel is Non Inflation Adjusted. As you can see there is a huge difference between the two charts especially from the mid 1970's through the early 1980's. Notice the Non Inflation Adjusted chart bottomed in late 1974 while the Inflation Adjusted Chart didn't bottom until the Summer of 1982. Meanwhile another thing to notice is that after peaking in the late 1976 the Inflation Adjusted Chart shows the S&P 500 in real dollars lost 44% of its value from late 1976 through mid 1982 (points D to E) before the major bottom occurred. On the other hand the non Inflation Adjusted Chart shows that from late 1976 through mid 1982 the S&P 500 had virtual no change as it was basically at the same level as the late 1976 peak (points F to G). Thus after the big oversold rally from late 1974 through mid 1976 the S&P 500 basically went nowhere for the next 6 years on a Non Inflation basis but in real dollars (Inflation Adjusted) it actually lost 44% of its value during the same period.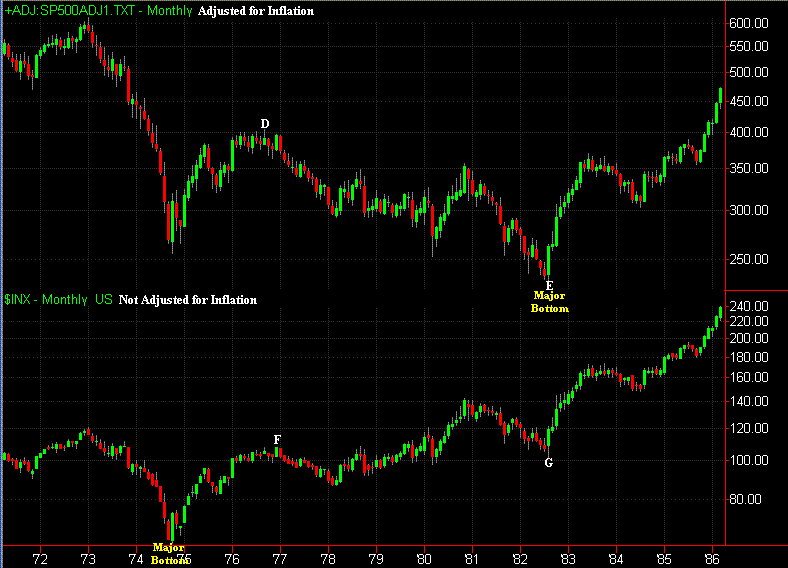 Meanwhile the next period of time that is exhibiting similar characteristics to now is that from the late 1930's. Notice from early 1937 through early 1938 the non Inflation Adjusted chart of the S&P 500 had a 5 wave pattern to the downside in which it lost 54% of its value which was then followed by a 62% rally over a period of 8 months. Once the ABC corrective rally ended the S&P 500 then lost 46% of its value from late 1938 through the early part of 1942 as it eventually retested its prior low (points C to D).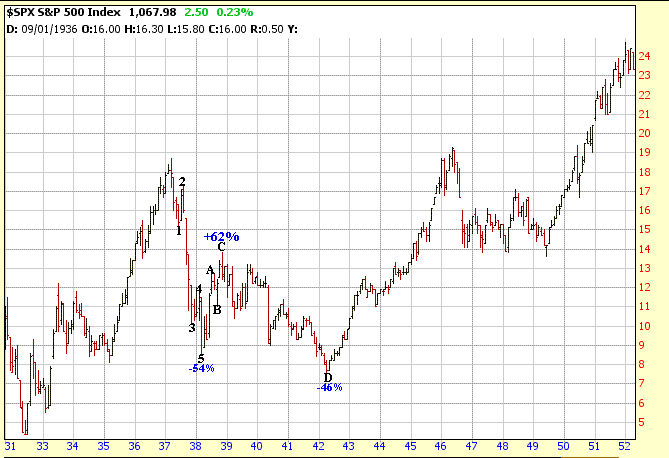 Next if we look at the Inflation Adjusted chart of the same time period the S&P 500 lost 53% of its value from late 1938 through early 1942. Keep in mind during this period of time inflation was tame as it was more of a deflationary environment. However the key thing to note from both of these charts is that the S&P 500 went through a 3 1/2 year correction with an eventual retest of the previous low after rallying 62% in just 8 months.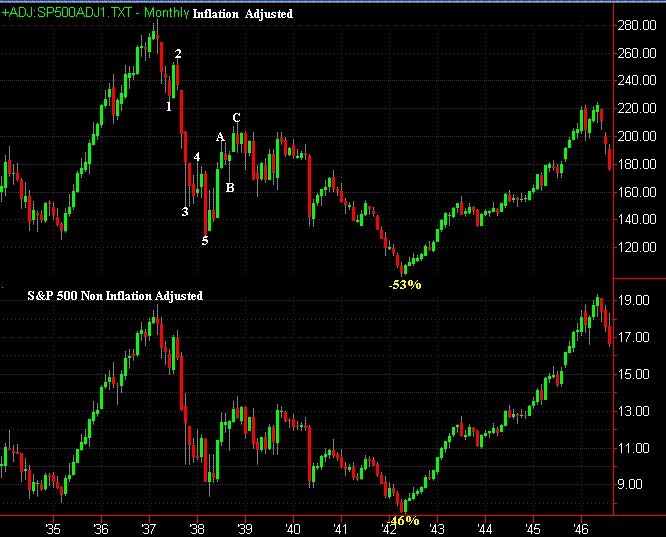 Next when you look at a very long term chart of the S&P Composite based on data calculated by Robert Shiller going back to 1871 you can see there have been 4 Secular Bull Markets (points E to F) and 3 previous Secular Bear Markets (points F to E). Currently we are now experiencing a 4th Secular Bear Market which began in 2000. The previous 3 Secular Bear Markets lasted on average 17 years with the minimum of 15 years (1906-1920) and the longest 20 years (1930-1949). Thus if the previous Secular Bear Markets are any indication of the current Secular Bear Market then we are still not close to the beginning of another Secular Bull Market. Furthermore the current chart of the S&P 500 looks more like the 1966-1982 and 1906-1921 time periods versus the 1929-1949 timeframe.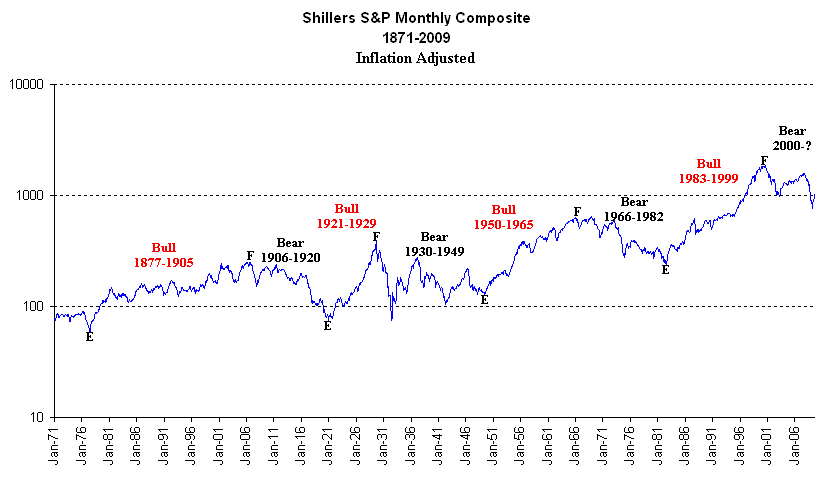 The rally from the March low has been impressive however as pointed out above it's no different than what has occurred in previous Secular Bear Markets. Personally I wish the next Secular Bull Market was just around the corner as it would be much easier to trade a Secular Bull Market however history suggests that we still may have a ways to go before this current Secular Bear Market ends.
Signup for a "Free 4 Week Trial Membership" or save up to 50% on a Premium Membership and you will have access to the following products.
1. "ETF Daily Buy and Short Signals" which can be used to trade the DIA's, QQQQ's and SPY's.
2. "401K/Thrift Savings Plan (TSP) Timing Service" which can be used to help improve your return in your 401k/TSP Account.
3. The "End of Month Strategy". This Strategy focuses on the typical End of Month markup by the Institutional Money.
4. "Stocks to Buy List" which can be used with either our Short Term Strategy or Long Term Strategy.
Our Fall Membership Special for new Members is shown below
which are 50% Off our normal Monthly Rate of $39.95
Membership Plans

Initial 50% Off
Introductory Rate

30 Day Trial Membership

FREE
Monthly Membership
$19.95
6 Month Membership
$119.95

We offer these options to sign up for our 50% Membership Special
or "Free" 30 Day Trial Membership:
All Trial and Regular Memberships are on a renewal basis so please email us to cancel your Membership before it renews as they "aren't refundable".
After the Introductory Period expires Memberships will automatically renew at our normal Monthly Discounted Rate of $21.95.
Send this Free Newsletter to a Friend or Relative