(11/13/10)
For those that follow Wave Analysis the S&P 500 appears to be exhibiting a large ABC type rally from the March 2009 low. Wave A went from 667 to 1220 while Wave B dropped back to 1011. Meanwhile the recent rally from the early July low of 1011 appears to be Wave C. Keep in mind C Waves are supposed to be composed of 5 separate Waves so it appears Wave 3 of 5 of C peaked at 1227. Also notice 1227 is only 2 points away from the 61.8% Retrace calculated from the October 2007 high of 1576 to the March 2009 low of 667.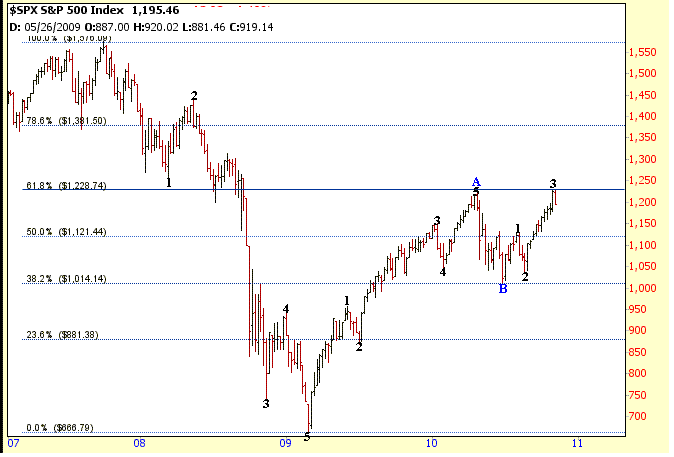 Meanwhile the current pullback from the 1227 high would be Wave 4 of 5 of C. The first area of support would be at 1183 which is the 23.6% Retrace calculated from the bottom of Wave 2 (1040) to the peak of Wave 3 (1227) while the second level of support would be around 1170 which is along the 10 Week EMA (blue line). So I would expect Wave 4 of 5 of C would hold support somewhere in the 1183 to 1170 range. Meanwhile once Wave 4 of 5 of C finishes then Wave 5 of 5 of C would occur. Typically the length of Wave 5 will be similar to the length of Wave 1. Since Wave 1 of 5 had a length of 118 points then adding that number to the bottom of Wave 4 of 5 would lead to an initial target near 1300.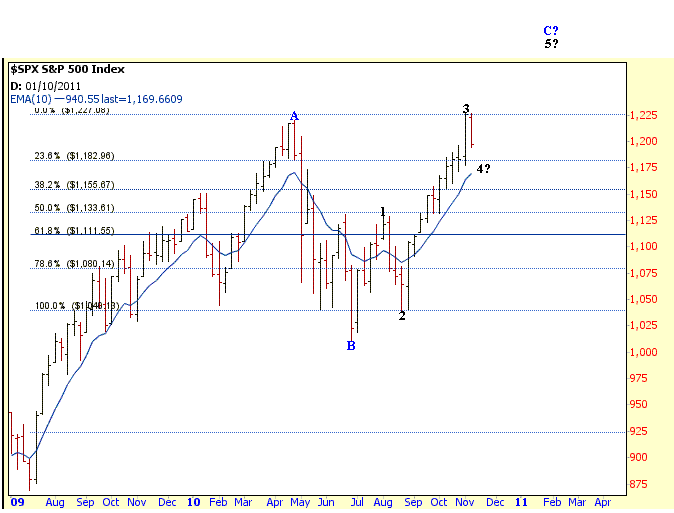 Finally as I mentioned a few weeks ago the overall pattern looks very similar to that of the mid 1970's in which a sharp 5 Wave sell off was immediately followed by a sharp "ABC" type oversold rally. However after the "ABC" pattern completed the Dow then traded in a choppy sideways pattern for the next 7 years before finally breaking out in 1983. Furthermore also notice there were two other "ABC" type moves preceding the mid 1970's one in the early 1970's and further back in the mid to late 1960's. Both of those patterns were followed by substantial sell offs (points C to D).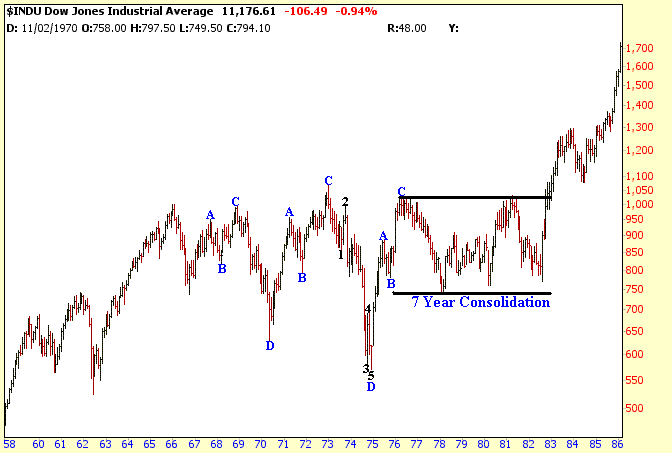 Signup for a "Free 4 Week Trial Membership" or save up to 50% on a Premium Membership and you will have access to the following products.
1. "ETF Daily Buy and Short Signals" which can be used to trade the DIA's, QQQQ's and SPY's.
2. "401K/Thrift Savings Plan (TSP) Timing Service" which can be used to help improve your return in your 401k/TSP Account.
3. The "End of Month Strategy". This Strategy focuses on the typical End of Month markup by the Institutional Money.
4. "Stocks to Buy List" which can be used with either our Short Term Strategy or Long Term Strategy.
Our Fall Membership Special for new Members is shown below
which are 50% Off our normal Monthly Rate of $39.95
Membership Plans

Initial 50% Off
Introductory Rate

30 Day Trial Membership

FREE
Monthly Membership
$19.95
6 Month Membership
$119.95

We offer these options to sign up for our 50% Membership Special
or "Free" 30 Day Trial Membership:
All Trial and Regular Memberships are on a renewal basis so please email us to cancel your Membership before it renews as they "aren't refundable".
After the Introductory Period expires Memberships will automatically renew at our normal Monthly Discounted Rate of $21.95.
Send this Free Newsletter to a Friend or Relative