(5/7/11)
Since 1900 we have only seen 3 occurrences in which the following conditions have been met using the Inverse Fisher Transform (IFT) with a time period of 9 months.
1. The IFT (red line) drops to -0.9 (purple line) and then rises back above +0.9 (yellow line).
2. This is then followed by a drop back to the +0.6 level or below (blue line) but remains above the "0" line (while line).
3. The red line then rises back above the +0.9 level (yellow line).
4. Finally the red line then drops back below the +0.9 level (yellow line) for a second time leading to a Double Top pattern.
Currently the S&P Composite has met three of these conditions as the IFT is developing a potential Double Top pattern. Since 1950 we have only seen two other occurrences of a Double Top pattern as both happened in the late 1960's and early 1970's. Both of these events were followed by sizeable corrections (points A to B) of -50% and -35%. Also notice both exhibited an "abc" type corrective rally from their previous lows which look very similar to what has occurred since the March 2009 low.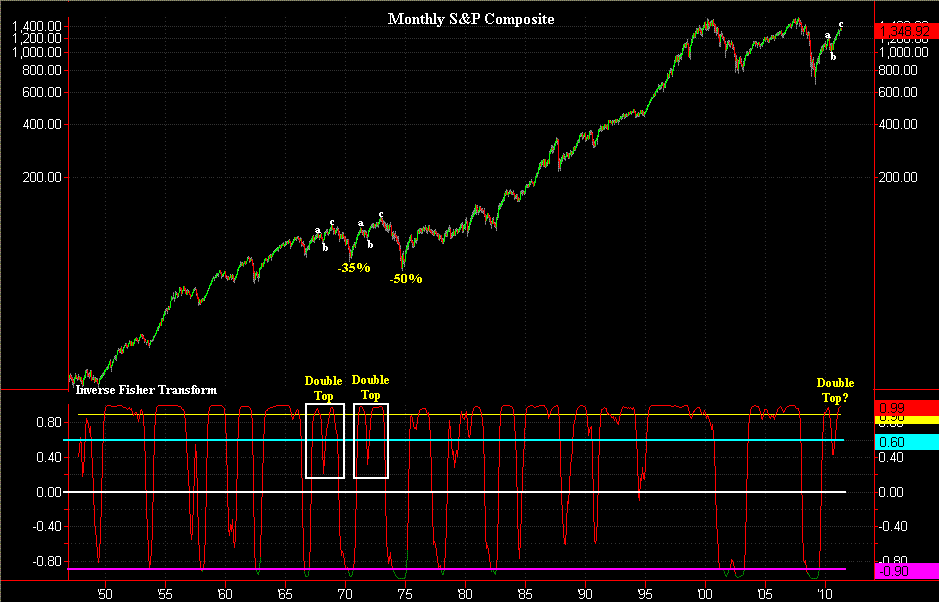 Meanwhile if we look at the period from 1900 through 1949 there was one other Double Top pattern which met the conditions as described above in the early 1900's which was followed by a 38% correction. Furthermore in the mid 1940's the conditions came very close to being met as well which was followed by a 30% correction. In addition notice once again the similar "abc" type structure in both as well.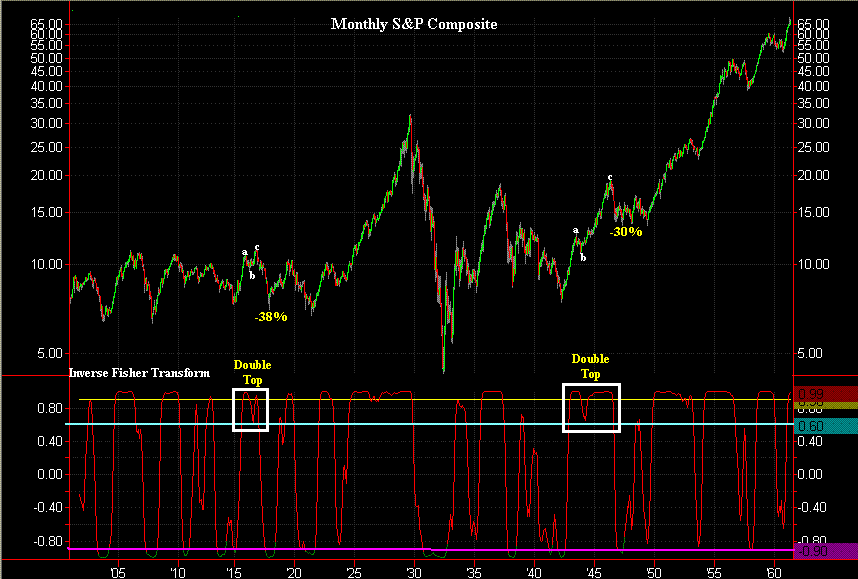 The key thing to watch for the next few months is for the IFT to close back below the +0.90 level like we saw with the last two patterns (points (D) which confirmed a top.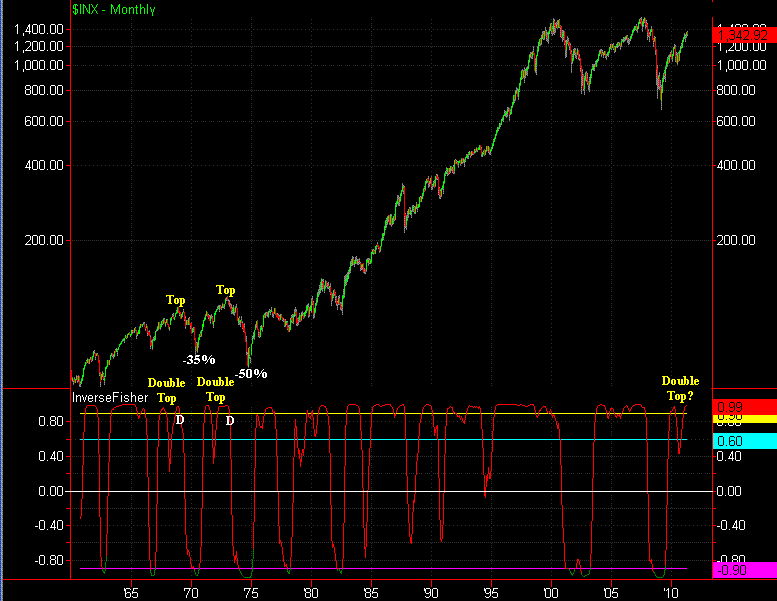 Signup for a "Free 4 Week Trial Membership" or save up to 50% on a Premium Membership and you will have access to the following products.
1. "ETF Daily Buy and Short Signals" which can be used to trade the DIA's, QQQQ's and SPY's.
2. "401K/Thrift Savings Plan (TSP) Timing Service" which can be used to help improve your return in your 401k/TSP Account.
3. The "End of Month Strategy". This Strategy focuses on the typical End of Month markup by the Institutional Money.
4. "Stocks to Buy List" which can be used with either our Short Term Strategy or Long Term Strategy.
Our Spring Membership Special for new Members is shown below
which are 50% Off our normal Monthly Rate of $39.95
Membership Plans

Initial 50% Off
Introductory Rate

30 Day Trial Membership

FREE
Monthly Membership
$19.95
6 Month Membership
$119.95

We offer these options to sign up for our 50% Membership Special
or "Free" 30 Day Trial Membership:
All Trial and Regular Memberships are on a renewal basis so please email us to cancel your Membership before it renews as they "aren't refundable".
After the Introductory Period expires Memberships will automatically renew at our normal Monthly Discounted Rate of $21.95.
Send this Free Newsletter to a Friend or Relative