(4/17/10)
As I mentioned last weekend investors were becoming very complacent in the market as the CBOE Equity Put to Call Ratio had dropped back to a rather low level. A chart of the Equity Put to Call Ratio using a 10 Day Average going back to 1997 is shown below. As you can see this week the 10 Day Average reached a level not seen since 2000. Also notice from 1997 through 2000 the 10 Day Average dropped back to or below the .40 level (black line) on several occasions (points A). However the S&P 500 was still able to move higher although there were some decent corrections (points B to C). Meanwhile from 2001 through 2009 the 10 Day Average generally stayed at or above the 0.50 level (brown line).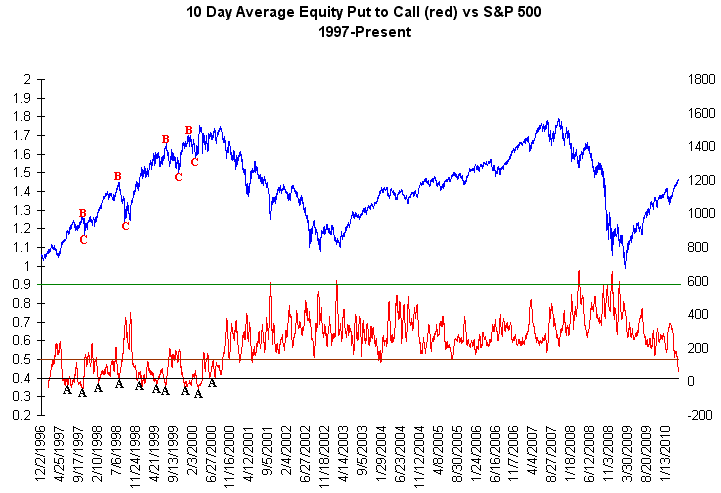 Finally for those that follow Wave Theory the move down from the October 2007 high to the March 2009 low was clearly a 5 Wave pattern which could be an "A" Wave of a larger "ABC" type corrective pattern. Meanwhile the rally from the March 2009 low has been an impressive corrective "B" Wave which is taking the shape of a possible Triple Zig Zag pattern as the final Z Wave up is occurring. In a triple Zig Zag pattern the W, X and Z Waves are supposed to be a Zig Zag pattern which would look like an "abc" type affair. Also remember a "B" Wave typically can retrace retrace 50%-61.8% of the A Wave so the S&P 500 has reached the upper end of this range as the 61.8% Retrace is at 1229.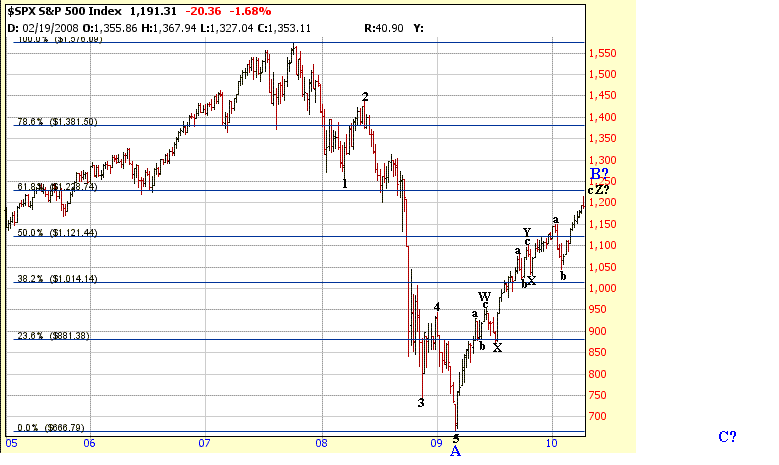 Furthermore in this type of pattern once the B Wave completes then the final C Wave to the downside would follow which could become an elongated affair. An example of a similar pattern occurred from the late 1930's through the early 1940's.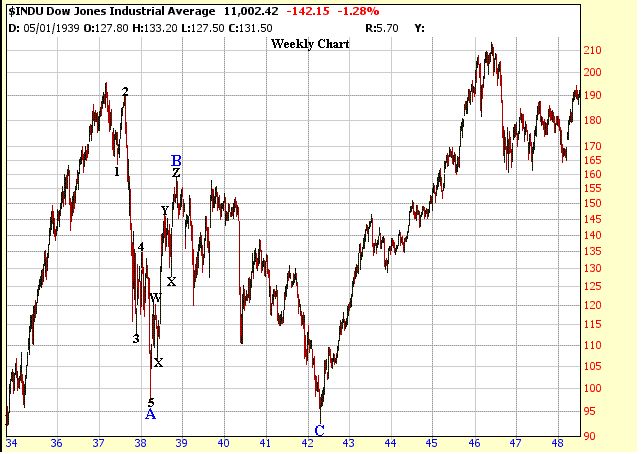 Signup for a "Free 4 Week Trial Membership" or save up to 50% on a Premium Membership and you will have access to the following products.
1. "ETF Daily Buy and Short Signals" which can be used to trade the DIA's, QQQQ's and SPY's.
2. "401K/Thrift Savings Plan (TSP) Timing Service" which can be used to help improve your return in your 401k/TSP Account.
3. The "End of Month Strategy". This Strategy focuses on the typical End of Month markup by the Institutional Money.
4. "Stocks to Buy List" which can be used with either our Short Term Strategy or Long Term Strategy.
Our Spring Membership Special for new Members is shown below
which are 50% Off our normal Monthly Rate of $39.95
Membership Plans

Initial 50% Off
Introductory Rate

30 Day Trial Membership

FREE
Monthly Membership
$19.95
6 Month Membership
$119.95

We offer these options to sign up for our 50% Membership Special
or "Free" 30 Day Trial Membership:
All Trial and Regular Memberships are on a renewal basis so please email us to cancel your Membership before it renews as they "aren't refundable".
After the Introductory Period expires Memberships will automatically renew at our normal Monthly Discounted Rate of $21.95.
Send this Free Newsletter to a Friend or Relative