Welcome to Amateur Investors
Since late 1999 we have been helping investors succeed making money in the stock market. Our Long Term Investing Strategy has consistently beat the S&P 500 since late 1999 as shown by the table below.
Year
# of Profiled Stocks
% of Winners
% of Losers
Amateur Investors Performance
S&P 500
Performance
2005
145
63%
37%
+31.2%
+3.0%
2004
144
65%
35%
+43.8%
+9.0%
2003
172
63%
37%
+119.3%
+26.4%
2002
74
77%
23%
+48.9%
-23.3%
2001
156
76%
24%
+51.3%
-13.0%
2000
240
74%
26%
+277.3%
-10.1%
Beginning in 2005 we also started a Short Term Investing Strategy as well which returned 64% for the year.
Our Investing Strategies are easy to use as we do all of the research for you and provide specific Entry Prices along with Target Prices as well. In addition each day we send out a Daily Breakout Report which alerts investors to those stocks which have reached their Entry Price.
For example here is a stock (RDY) we featured in late December of 2005 as it had developed one of the favorable chart patterns (Flat Base) we look for. Since breaking out in early January RDY has gained near 50% through mid March.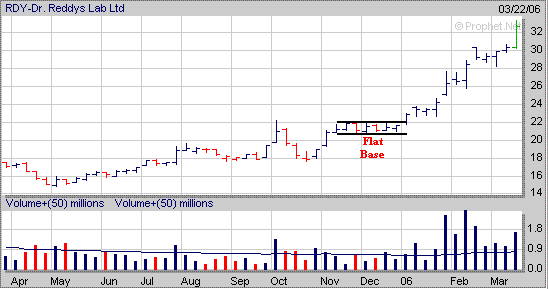 Meanwhile here is another example of a stock (AKAM) we featured in late 2005 which developed another one of our favorite chart patterns called the "Cup and Handle". Since late 2005 AKAM has gone up over 60%.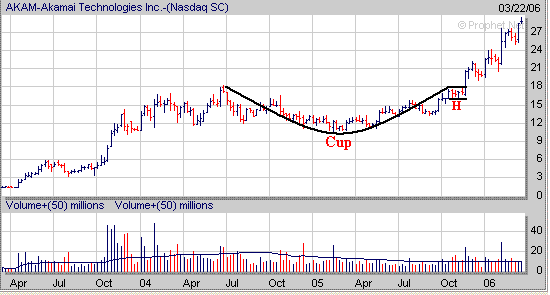 Each Day we update our Stocks to Watch Buy List which gives you a list of stocks that are poised to breakout over the next week or two.
Here is a sample of what the list looks like below. Notice we provide the exact Buy Price along with where to place the initial Stop Loss Price. In addition we also provide an initial Target Price as well.
Stocks to Watch Buy List for March 29,2006
(Typically our List will contain an average of 5 to 10 Stocks a Week)
Symbol

Sector/
RS Strength

Chart
Pattern

Pivot Point
(Buy Price)


Stop Loss

Average
Daily
Volume

Initial
Target
Price


BITS
Computer-Desktop
97
5 Week
Flat Base
$8.90
$7.90
155,000
$12
FALC
Computer-Software
49
1 year Cup
with a
6 Week Handle
$9.85
$8.85
209,000
$13
Meanwhile once a stock breaks out from our List we also send out a Daily Breakout Report as well by email to alert investors to those Stocks that have reached their Buy Price.
In addition to our Stocks to Buy Watch List and Daily Breakout Reports you will also have access to the products show below as well.
Industry Group Performance
Market Timing Indicator
Daily and Weekly ETF Signals
Our Membership Specials for new Members are shown below
which are 50% Off our normal Rates.
Membership Plans

Normal Rate

Initial 50% Off
Introductory Rate

Monthly Membership
$49.95
$24.95

Click here to Signup for our Daily Service for 1 Month