(8/10/13)
The big question moving forward is will the recent cluster of Hindenburg Omen (HO) Signals be followed by another substantial correction? Prior HO events have been a warning sign for investors to be cautious moving forward. I use the following criteria to define an HO Signal.
1. The daily number of NYSE new 52 week highs and the daily number of new 52 week lows are both greater than or equal to 2.5 percent of the number of issues traded that day (some use 2.2% or 2.8%).
2. The NYSE Index is greater in value than it was 50 trading days ago (some use a 10 Week Moving Average).
3. The McClellan Oscillator is negative on the same day.
4. New 52 week highs cannot be more than twice the new 52 week lows (although new 52 week lows may be more than double new highs).
5. Two Signals must occur within a period of 30 Trading Days (some use only one signal to confirm a Hindenburg Omen).
Keep in mind we can only calculate Hindenburg Omen Signals back to 1980 since the NYSE calculated New Highs and Lows differently prior to 1980. After 1980 New Highs and Lows were based over a 52 Week Rolling Period while prior to 1980 New Highs and Lows were not based on a 52 Week Rolling Period.
Meanwhile as I mentioned back in early June one key aspect that is ignored by investors when dealing with Hindenburg Omen's is whether the market is overvalued or not. When you factor in these two additional parameters (Shiller's PE Ratio is at least "18" the prior month and the S&P 500 is 100% or more above its 5 Year Low) then the number of signals is reduced to the following time periods: September 1987, December 1999, October 2000, July 2007, October 2007, June 2013 and now August 2013.
As you can see since 1980 there have only been "7" HO Signals when the Shiller PE Ratio was above 18 and the S&P 500 was at least 100% above its 5 Year Low so it is a rare occurrence. The prior HO Signals in 2007, 2000/1999 and 1987 were followed by substantial corrections ranging from 36% to as high as 58%.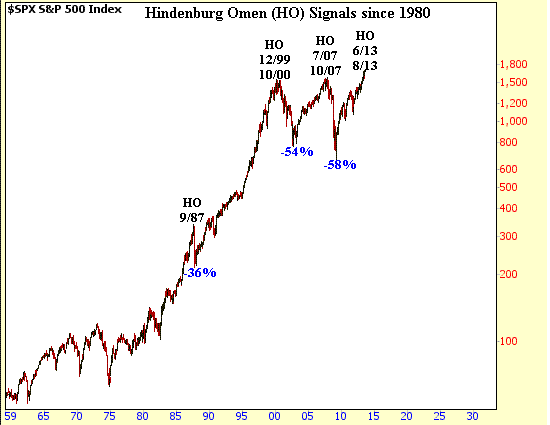 If the recent HO Event does lead to another substantial correction there are a couple of scenario's to watch for. Since the end of World War 2 the S&P has held long term support either at its 200 Month EMA (points A) or 400 Month EMA (points B). In addition the long term upward trend line (dashed purple line) connecting the 1932 low with the 1942 low has not been broken either. Furthermore as you can see there have only been two occurrences when the S&P has actually dropped below its 200 Month EMA during the past 70 years (2009 and 1974).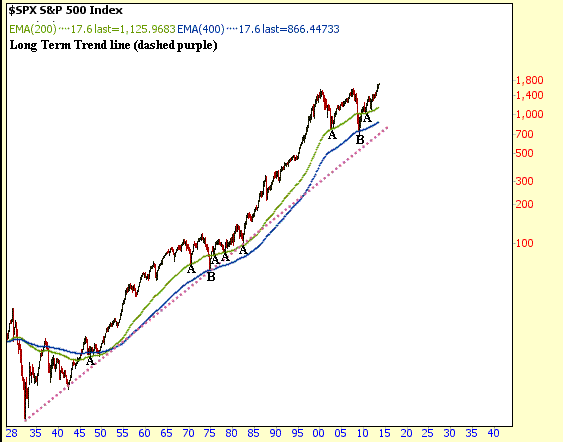 For theoretical purposes let's say the recent high of 1710 was a top. Currently the 200 Month EMA is in the mid 1120's while the 400 Month EMA is in the mid 800's. Thus if a larger correction were to develop a drop back to the mid 1120's would be a 34% correction while a move down to the mid 800's would be a 49% correction.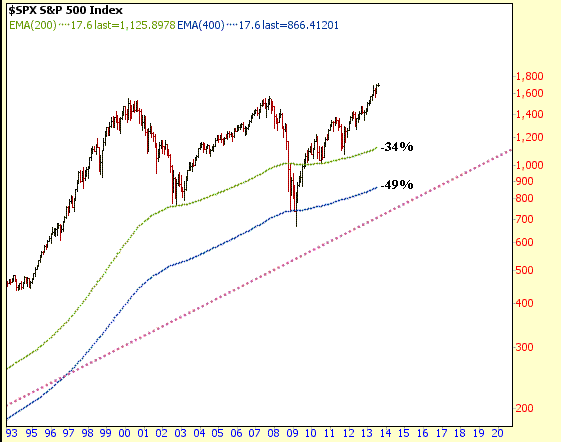 Finally the worst case scenario is that the S&P has formed a large Broadening Top pattern similar to what occurred from the mid 1960's through the early 1970's. If this pattern were to play out then an eventual test of the lower trend line (red line) would occur which would be a 65% correction based on a target near 600. However, as mentioned above, in order for this to happen the S&P would have to break below its 400 Month EMA and longer term upward trend line which hasn't happened in over 70 years.